Past Articles 2008
JSPS Summer Program 2008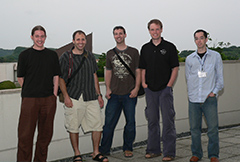 <Date> from Tuesday June 17th to Thursday August 21st, 2008
<Participants> 114 fellows in the JSPS Summer Program
On June 17th 2008, 114 young researchers, from Canada, France, Germany, and the USA, came to Japan to participate in the JSPS Summer Program. At the beginning of their two-month stay in Japan, they joined the orientation held at the SOKENDAI Hayama campus. The orientation consisted of classes on Japanese culture and language, lectures on several scientific topics, a poster session, and a two-night home stay in which they experienced Japanese family life through interaction with their host families. After the one-week orientation, they spread out all over Japan to start their researches at their host institutes. After their two-month research activities, on August 20th, 2008, they gathered at the Keio Plaza Hotel to attend the Research Report Presentation and Farewell Party. At the presentation, six fellows presented their research achievements during their stay in Japan as well as impressions of their stay. After the presentation, the host families and host researchers joined the Farewell Party, which wrapped up their fruitful stay in Japan magnificently.

Fellows making origami


With their host families


At the poster session
The following are some of the impressions of the JSPS Summer Program from fellows.
About the orientation in Hayama:
'"The orientation was well run and quite helpful. I greatly enjoyed my time with my host family. We toured Kamakura and saw many incredible temples and shrines. They opened their home to me, shared their culture, and patiently answered my many questions."
"I really liked the orientation program in Hayama. I do appreciate the inclusion of the Japanese language and culture classes as it gave us a good head start in surviving in Japan. The food during the orientation program was excellent. With the program's detailed organization, the accommodation and transit arrangements gave us a worry-free way to settle during our first days in Japan."
"I felt that the orientation in Hayama was particularly well-managed. The presentation of the food at the final banquet was impressive, and I thought cultural introduction with the host family was really wonderful. The language classes were also ultimately very helpful."
About the stay at host institutes/organizations:
"My research through this program went really well. My advisors and colleagues helped me a lot to get things ready to do my research."
'"Both American and Japanese laboratories are filled with students searching for balance between ambition, professional expectations, personal satisfaction, and social life. Both settings are friendly environments where collaboration is appreciated and cultivated. My Japanese laboratory differs from my American laboratory in that there is a stronger sense of seniority and respect for experience. The more senior students actively help and advise the younger students."
"Upon arrival, I had the opportunity to present my research to the lab, which was a very good experience for me as I had never given a formal talk before. I obtained much positive feedback which encouraged me to move forward with the full confidence that my research plan was "durable". I spoke with each member of my Host's laboratory individually and I heard about each person's research project... More successfully, I feel that I have made contacts that may lead to collaborations with Japanese researchers in the future or that may enable me to find a position in Japan at the post-doc stage. I learned a lot of Japanese during my stay and I feel that I formed a good quality relationship with my host adviser, who has many important contacts in my field."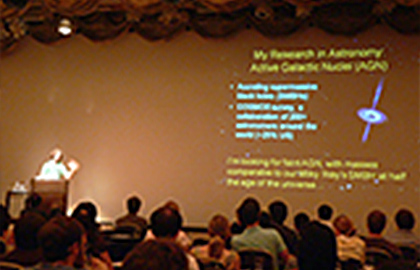 A fellow presenting his research achievements.


At the Farewell Party


A fellow trying calligraphy
Messages for JSPS Summer Program:
"I believe that this is an incredible opportunity for students to participate in the international science and engineering community. It has helped me to mature professionally, culturally, and personally. I am extremely proud to be a JSPS fellow and am thankful to our countries for the experience."
"The JSPS summer program offers the young researcher a chance to forge links between scientists at an early stage of his or her career. The emphasis on cultural interaction promotes the kind of understanding between people of different backgrounds that enables the development of mutually beneficial collaborations. The program also provides a wonderful chance to challenge one's preconceptions about Japan, as well as to travel, meet new people, and have a lot of fun."
"The JSPS summer program is a fantastic program! The goal of this program is to enhance cooperation between foreign laboratories. This mission has definitely been accomplished because my host laboratory has already expressed interest in further future collaborations. Furthermore, I have networked extensively with people in my host laboratory as well as researchers in neighboring labs. This will be important for my future career and it has exposed me to a variety of biological research topics. Overall this program was a very positive experience. I am very thankful to the JSPS and the NSF for providing me with this wonderful opportunity!"

Group Photo of 2008 JSPS summer program