2018 JSPS Summer Program
Orientation: June 13 to June 18, 2018
On June 13, 2018, 102 master's/doctoral students and post-doctoral researchers (fellows) from the UK, France, Germany, Canada, Sweden and the United States participated in the orientation of JSPS Summer Program 2018 in Hayama.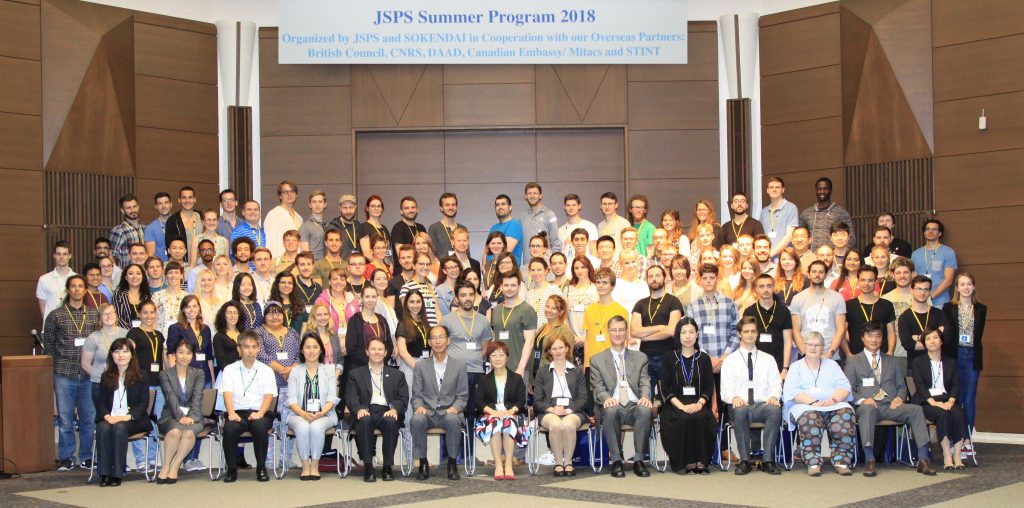 The opening ceremony started with a welcome address by Mr. Norifumi Ushio, Executive Director of JSPS, and Dr. Mariko Hasegawa, President of SOKENDAI. It was graced by the presence of distinguished guests, including the representatives of the nominating authorities. In the evening, host researchers and the students of SOKENDAI joined the welcome party to enjoy conversations with fellows outside their research fields and of different nationalities.
On the second day, Mr. Yoshitaka Yamamoto, Associate Professor of Graduate School of Letters, Osaka University, delivered the special lecture titled "Paper And Threads: My Encounter with Early Modern Japanese Books". He introduced the fact that only 1% of Early Modern Japanese Books had been transcribed, and explicated historical backgrounds, the form of bindings, structures as well as the contents, referring to his own episodes how he had decided his career path.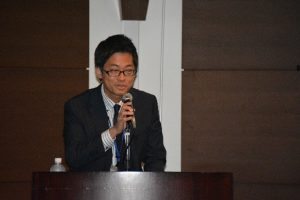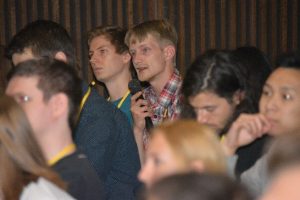 Special Lecture by Mr. Yamamoto
During the orientation, Japanese classes were delivered in order to prepare for their research life in Japan. The fellows were assigned to ten Japanese classes according to each fellow's Japanese level.
In the afternoon of the second day, the fellows visited the most popular sightseeing spots, Tsurugaoka Hachimangu, Great Buddha, and Komachi Street in Kamakura. They fully enjoyed the charm of the ancient city, listening to historical explanations and learning how to make a money offering at a shrine.
The poster session was held in the afternoon of June 15. Fellows prepared their own posters beforehand and had lively discussions on each of the research topics presented at the session. Two SOKENDAI students who had participated in the seminar "English poster presentation skills" also joined this session.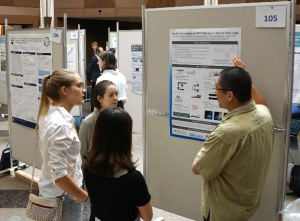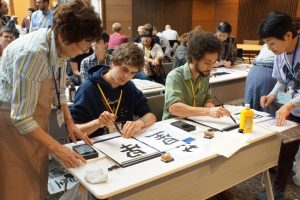 The Poster Session Japanese Calligraphy
Before fellows meet their host family, they enjoyed the time of "the Japanese Culture Experience". This event included a tea ceremony, calligraphy, origami, kendama, and kimono dressing with a help of local volunteers. Over the weekend, the fellows experienced homestay with Japanese local families and enjoyed Japanese unique culture as well as food, which made special memories.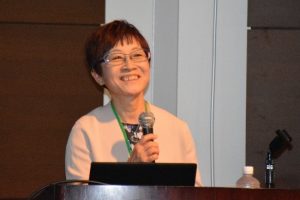 Special Lecture by President Hasegawa
On the final day of the orientation, Dr. Mariko Hasegawa, President of SOKENDAI, gave a lecture on "Seven (Naïve) Questions about AI". After referring to the uniqueness of human being and the evolution of brain and intelligence, she presented seven issues regarding AI as an unavoidable issue. Since there were some fellows whose specialty is AI, the discussion was conducted interactively, which offered a fruitful time for all.
In the afternoon, Dr. Masateru Ando, a former professor at Tokyo University of the Arts, delivered a lecture on "The World of Koto" and showcased traditional Japanese music. Dr. Ando explained Japan's traditional musical instruments and played six songs on koto, shakuhachi, shamisen, and the 17-stringed koto. During the lecture, Japanese sweets Yatsuhashi, whose form is said to be the roots of koto, was served by Dr. Ando. After the performance, the fellows had an opportunity to try the Japanese traditional instruments, and they enjoyed making sounds with them.
Because of the flight delay and some other reasons, six fellows arrived late this year. But everyone gathered before the homestay program starts, and headed to their host institutions located across the country to conduct their research activities for two months. We hope their research experience will be fruitful and this program will continue to promote international academic exchanges in Japan.
Research Report Presentation & Farewell Party: August 21, 2018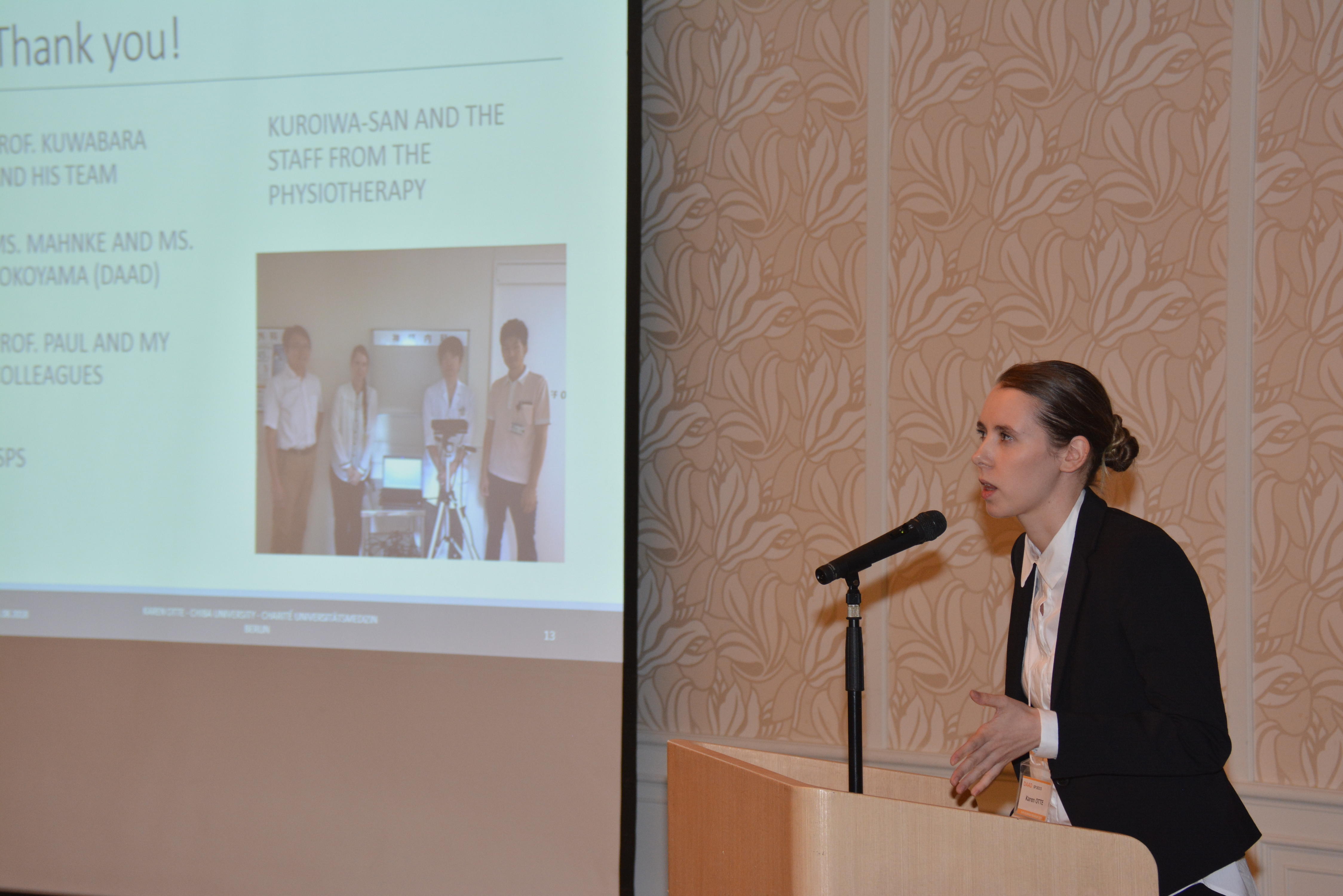 After two months of research activities at their respective host institutions, JSPS Summer Program fellows gathered in Tokyo on August 21 to attend the research report presentation and the farewell party.
At the research report presentation, Dr. Mariko Hasegawa, President of SOKENDAI, and Dr. Yasuhiro Iye, Executive Director of JSPS, gave opening address, selected by each nominating authority made presentations about their research and achievements in Japan. When questions and comments were made by the audience, some of them specifically had intentions to collaborate, which may lead to further academic exchanges.
23 host researchers and Dr. Ando also joined the farewell party, which made the party more enjoyable. JSPS post-doctoral researchers who were JSPS Summer Program participants in 2014 delivered speeches that covered the experience of their current fellowship in Japan, followed by slide show that presented their experience in Japan.

A few comments from fellows, recorded when visits were made to host organizations, are summarized below;
Veronica WALLANGEN / National Institute for Quantum and Radiological Science and Technology / Stockholm University / STINT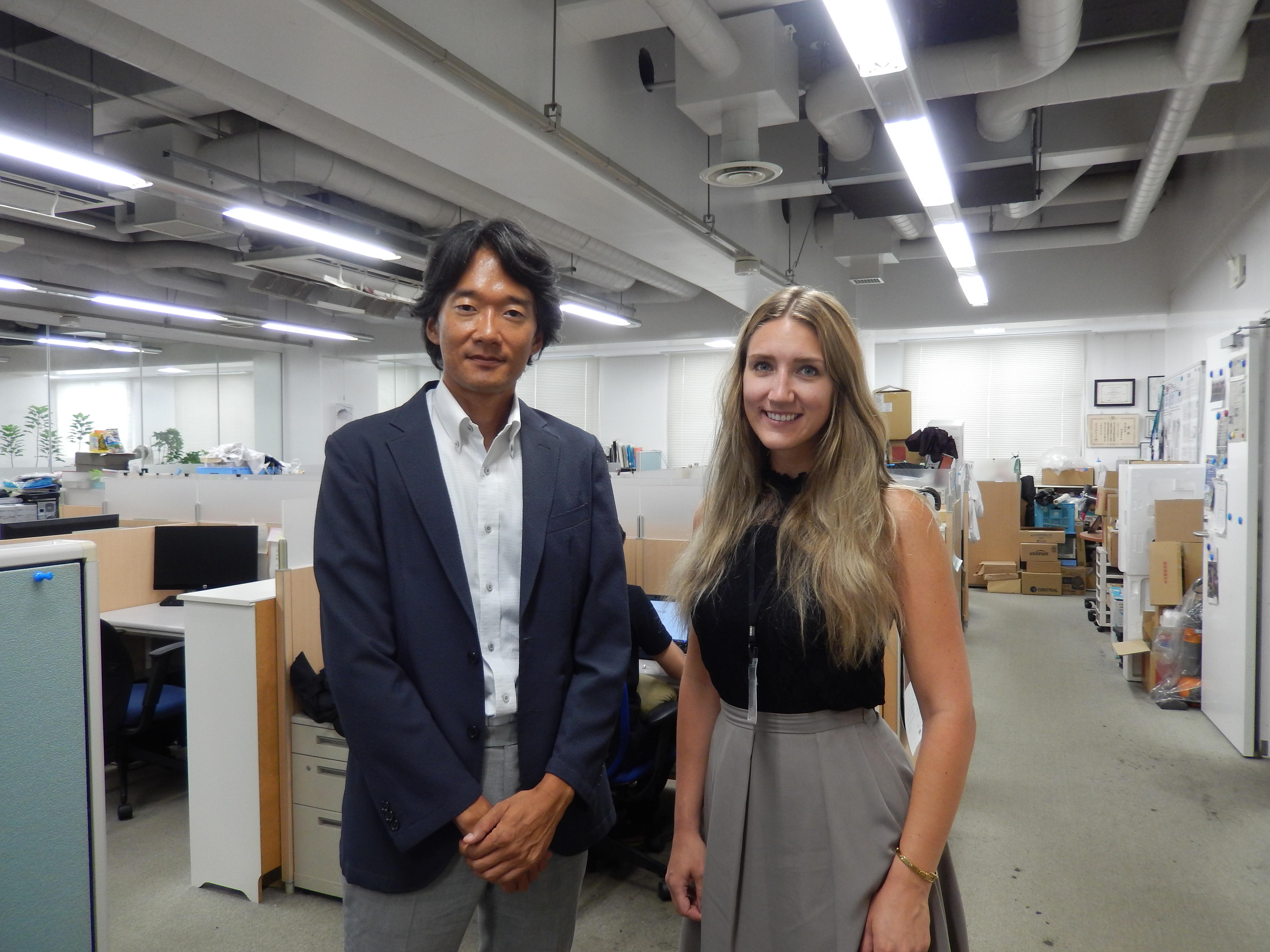 "Which aspects of the program are the most valuable to you?"
I liked the freedom to choose what research you wanted to do. Also I enjoyed the combination of research experience and cultural experience in this program.
"What are differences you found between Japanese laboratory and the laboratory in your country?"
People work hard and much effort invested. It is interesting to be a part of the lab in a different cultural setting.
"Comments about orientation sessions in Hayama"
It was a great start of experience. Japanese classes were very helpful as I start research in Japan, and homestay with Japanese host family was a good introduction to Japan.
"A short message about this summer program"
The JSPS Summer Program offers a perfect balance between exposing the fellow to excellent cutting-edge research as well as a taste of the Japanese culture and hospitality. The unique opportunity to participate in this program was truly an enriching experience both professionally and personally.
Fred Ariel HERNANDEZ / Tsukuba University / University of California, Los Angeles / U.S.A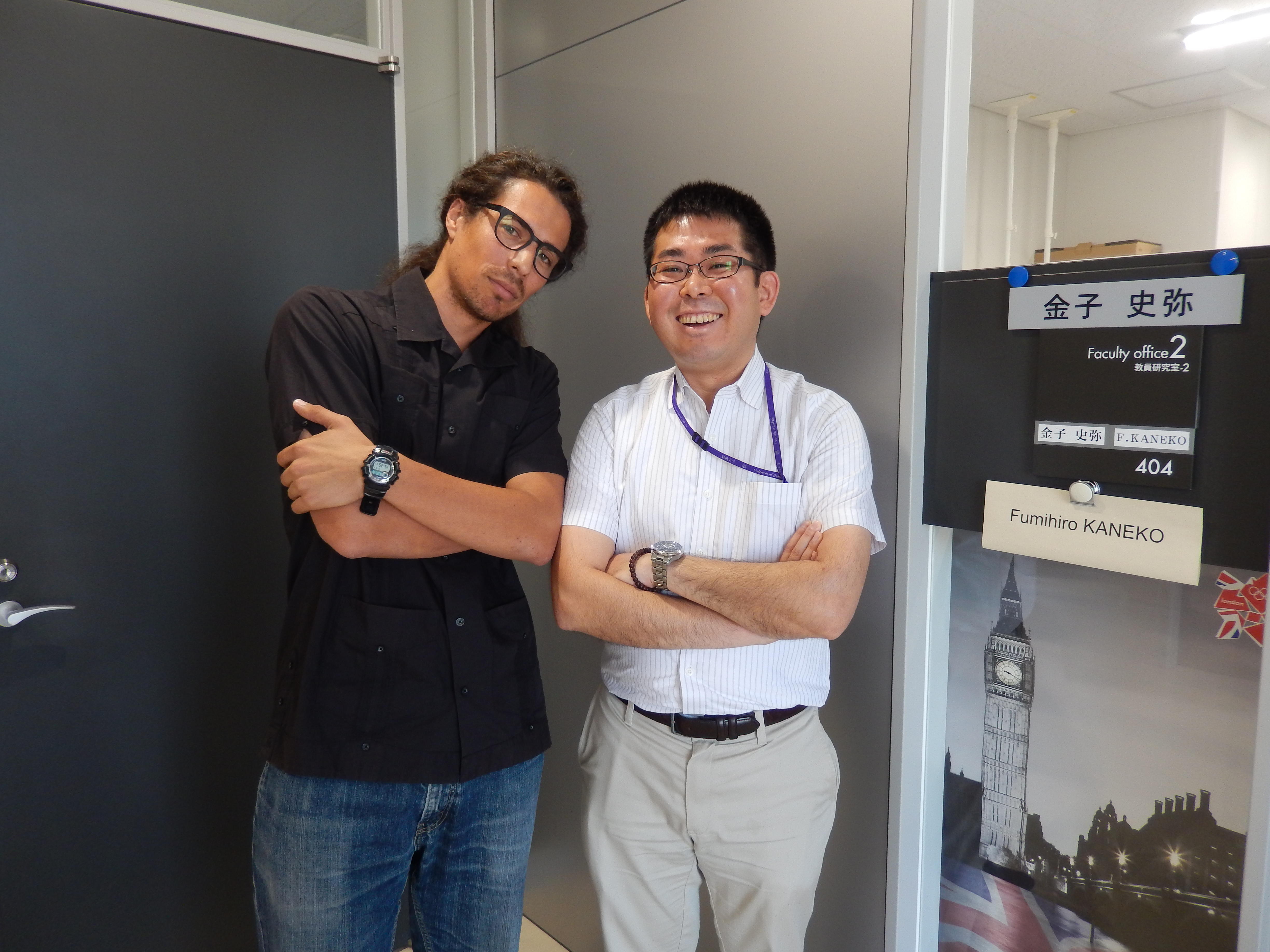 "What are differences you found between Japanese laboratory and the laboratory in your country?"
My home department at UCLA is in the human sciences (gender studies), so the research environment here in Tsukuba University Department of Health and Sport Sciences is very different. Professors at University of Tsukuba focus on sports broadly, which works well for me. They have good support for graduate students and I've had access to many people and facilities.
"Comments about orientation sessions in Hayama"
I was surprised about the number and quality of the orientation programs for fellows. It was much more than I expected and I had good experiences. Kamakura sightseeing was very relaxing and I enjoyed it a lot. The Japanese class was very helpful; if it could be longer, perhaps they could add more practical, conversational material.
"A short message about this summer program"
The JSPS Summer Fellowship is an incredible research and scholarly opportunity. In my experience, my host university had a broad range of Japanese and international scholars, had great research facilities, and my host faculty was engaging and supportive. Many important experiences happened once I was settled at my host institution and integrated into the social life of the department, including symposium and conferences at the university and surrounding area. I could not have planned for these experiences and they are directly related to the quality of research supported by this JSPS fellowship. Thank you to JSPS, this past summer has been a highlight in my graduate student career.