Past Articles 2011
JSPS Summer Program 2011
<Date> from Wednesday June 15th to Tuesday August 23rd, 2011
<Participants> 99 fellows in the JSPS Summer Program
Orientation
Despite the effect of the earthquake disaster, 99 young researchers from the USA, the UK, France, Germany and Canada came to Japan to participate in the JSPS Summer Program 2011 on June 15th, 2011.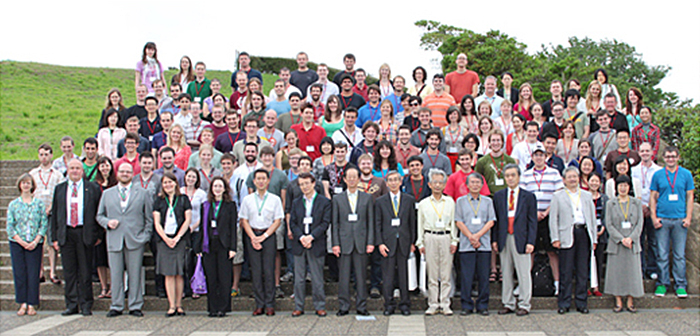 On the first day, the Opening Ceremony started with an Address from Dr. Takahata. We had some guests from NSF, British Council, CNRS, DAAD and the Canadian Embassy at the Ceremony. In the evening, many fellows enjoyed Japanese cuisine and in particular they were excited to take photographs of a huge Tuna head dish at the Welcome reception. The fellows enjoyed not only tasty food but also the interaction between host researchers, Japanese students who participated in the SOKENDAI lecture, and fellows in various research fields and many different cultures.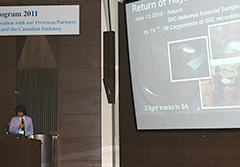 On the second day, two Special Lectures were held.
Dr. Tetsuya YAMADA, Department of Space and Astronautical Science, SOKENDAI gave an impassioned lecture on "Dawn of the age of the solar system exploration-Hayabusa, Ikaros and future-". He explained outline of Hayabusa mission including a video show of the launching of the asteroid explorer Hayabusa, how the project members collected samples of the S-type asteroid Itokawa and a small sample return capsule (SRC) landed on the earth. The lecture extended to the future of space science.
Following this, Professor Masateru ANDO, Tokyo University of the Arts, gave a lecture on the history and technique of Japanese traditional music and Instruments such as Koto, Shamisen and Shakuhachi.
"Rokudan no Shirabe (Six Movements Music)" composed by Yatsuhashi-Kengyo was played after Prof. ANDO's explanation of Koto structure, musical scale and plucking.
He explained type and tone of Shakuhachi and afterwards "Shika no Tone (Distant Call of Deer)" was demonstrated with various tones. Additionally "Zangetsu (Lasting Moon)" was played with Koto, Shamisen and Shakuhachi.
After the interval, "Mizu no Hentai (Water and its Transformation)" with Koto and Shamisen and "Haru no Umi (The Spring Sea)" with Shakuhachi were played. Finally, Prof. ANDO and two students played "Sakura Henso-kyoku (The Cherry Blossoms Variation)" with the 13-string Koto and the 17-string Koto. The latter is slightly larger and sounded more dignified than the former. Especially enchanting was the melody of the 13-string Koto played by Prof. ANDO created a deep impression as if a piece of Cherry blossom blew in the wind. The fellows enjoyed the lecture, Live Music Concert performed by Prof. ANDO and his students and also experienced to play music instruments by themselves. Thunderous applause did not stop for a long time after the performance ended.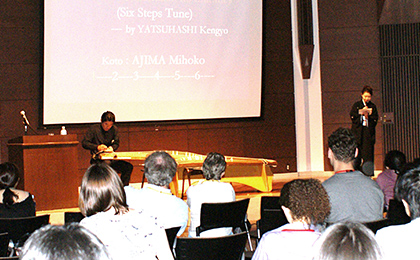 During this orientation program, the fellows attended Japanese language classes and a Poster Presentation in which SOKENDAI students also joined.
When they were introduced aspects of Japanese culture such as a tea ceremony, calligraphy and folding paper crafts, some of the ladies had an opportunity to wear beautiful Kimono. On the weekend they had been a two-night home stay with a Japanese family. It seemed for them to have memorable experience with their host family and some of them visited the Big Buddha in Kamakura, Onsen (hot spring) in Hakone, fishing and surfing in Hayama. Tears from some fellows on parting from their host family were a little emotional.
On the last day of orientation, two Special Lectures were held.
Professor Osamu FURUSE, Department of Japanese Literature, SOKENDAI gave a lecture on "Introduction of classical Japanese Literature by an Information Scientist".
He explained with good humor that Classical Japanese Literature can be divided into four main periods and each period has a mainstream style in Literature. He introduced the tale of Genji, Kabuki, Bunraku and some aspects of Japanese culture with video. The fellows who learned Hiragana for the first time in the Japanese classess enjoyed "One hundred Waka poems" and "Karuta"(Japanese cards) games as they recognized some Hiragana.
Secondly, Dr. Kaori IIDA, Department of Evolutionary Studies of Biosystems, SOKENDAI gave a lecture on "International connections and the development of science in Japan". She explained the social situation, Japanese unique culture and involvement with overseas from Edo to Meiji period. In addition, she introduced the success of Dr. Hitoshi Kihara, a prominent wheat geneticist and the founder of genomic analysis, especially in the international community. Finally, how Japanese scientists both created and benefited from international connections and gave a message to the fellows that "face to face communication is more important than virtual, therefore make a good relationship through this summer program".
After the one-week orientation finished, they dispersed to their host institutes/organizations nationwide including the Tohoku area for two months of research activities. We respect all of the fellows who came to Japan during the current difficult situation and hope this summer program would be valuable to them and finally their youthful energies will be of aid to help recovery in Japan.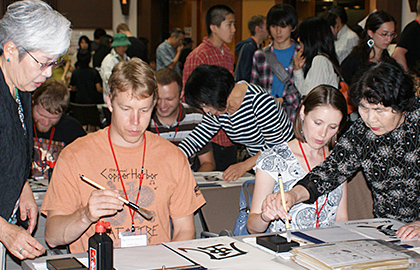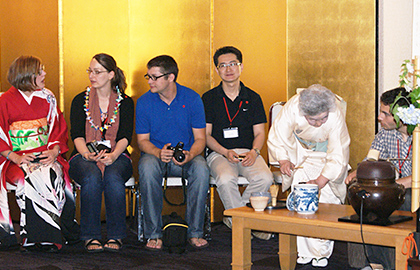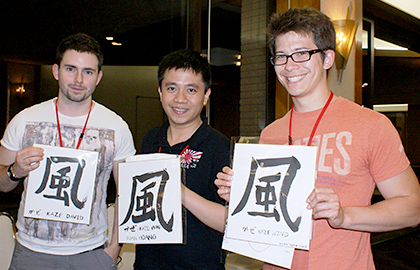 Research Report presentation & Farewell Party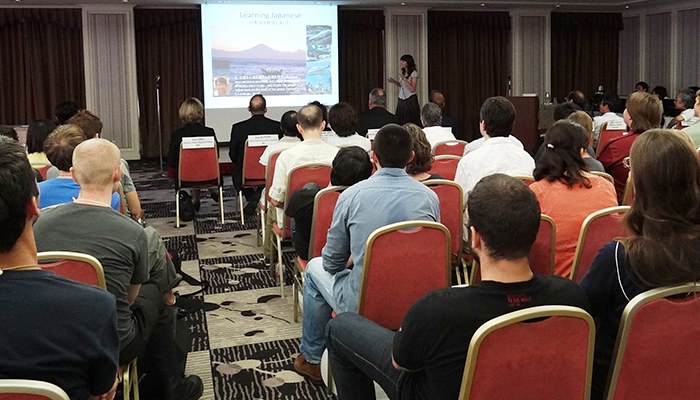 On August 23rd, 2011, the fellows gathered at the Hotel Grand Palace to attend the Research Report Presentation and Farewell Party. At the presentation, six fellows presented their research achievements during their stay in Japan as well as impressions of their stay.
Ms. Lucie GATTEPAILLE who was hosted by SOKENDAI reported her research about Population genetics biology as CNRS representative fellow. In addition, she talked about her wonderful memories in SOKENDAI, Hayama showing some photos of Somen nagashi and softball game. When she received the Certificate of Completion she had tears in her eyes.
After the presentation, the host families and host researchers joined the Farewell Party, which wrapped up their fruitful stay in Japan magnificently.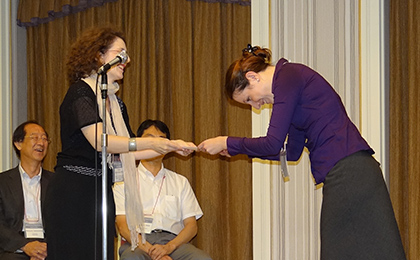 The followings are messages from a few fellows of JSPS Summer Program.
William MCLAMB
(NSF/ National Institutes of Natural Sciences/ Florida Institute of Technology)
"About the laboratory in Japan"
My host's laboratory had resources that don't exist in my laboratory (such as electrophysiology suites), which made this a very valuable experience for me.
"About Orientation program"
The orientation programs helped with initial adjustment to living and working in Japan. Japanese language classes were helpful for very basic communication and courtesy. Cultural programs were interesting, but might be better in small 'workshop' groups, instead of large lecture presentation. Poster presentations by students at the end of the program (instead of the beginning) would provide an opportunity to share research success with others.
Kevin BULLAUGHEY (NSF/ SOKENDAI/ University of Chicago)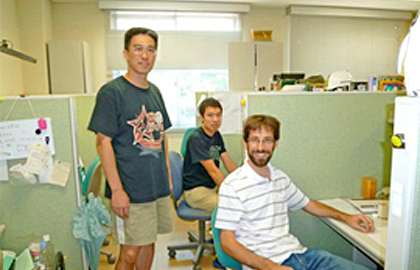 "About your research through Summer Program"
My research here was productive. I have started a new project and have had opportunities to chat science with lab members and the PI.
"About favorite experience"
My favorite experience was my visit to the National Institute of Genetics where I was able to visit for half a day with Dr Tomoko Ohta, a titan in our field and a very remarkable woman, who shared some of her experiences of her long career and work with Dr. Kimura.
Lucie GATTEPAILLE (CNRS/ SOKENDAI/ Uppsala University)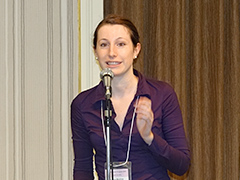 "About Orientation program"
I enjoyed the Japanese classes. I needed this to reactivate a bit my old notions of Japanese. I also really enjoyed the cultural evening that was organized, but above all, I was completely mesmerized by the music performances. I fell in love with Koto at that time and the interpretation of Sakura with 3 kotos was purely and simply amazing. I feel very lucky to have enjoyed this. I liked the venue (Shonan village Center), especially, for the food they were serving. The curfew was annoying though.
Erica ANDERSON (NSF/ National Institutes of Natural Sciences/ University of Florida)
"About your research through Summer Program"
My research went very well; I was able to get some very nice data and learn several new techniques. The best part was being able to learn a somewhat complicated technique directly from the person who had optimized the procedure for the species I was working with. Overall I am very pleased with what I accomplished in this lab in such a short amount of time.
"About Home stay program"
Staying with a Japanese family was a wonderful experience, and I am very glad that I had the opportunity to do so. It was a great way to get to learn more about Japanese life. My host family was incredibly friendly and I had a great weekend spending time with them.