JSPS Summer Program 2017
Orientation: June 14 to June 19, 2017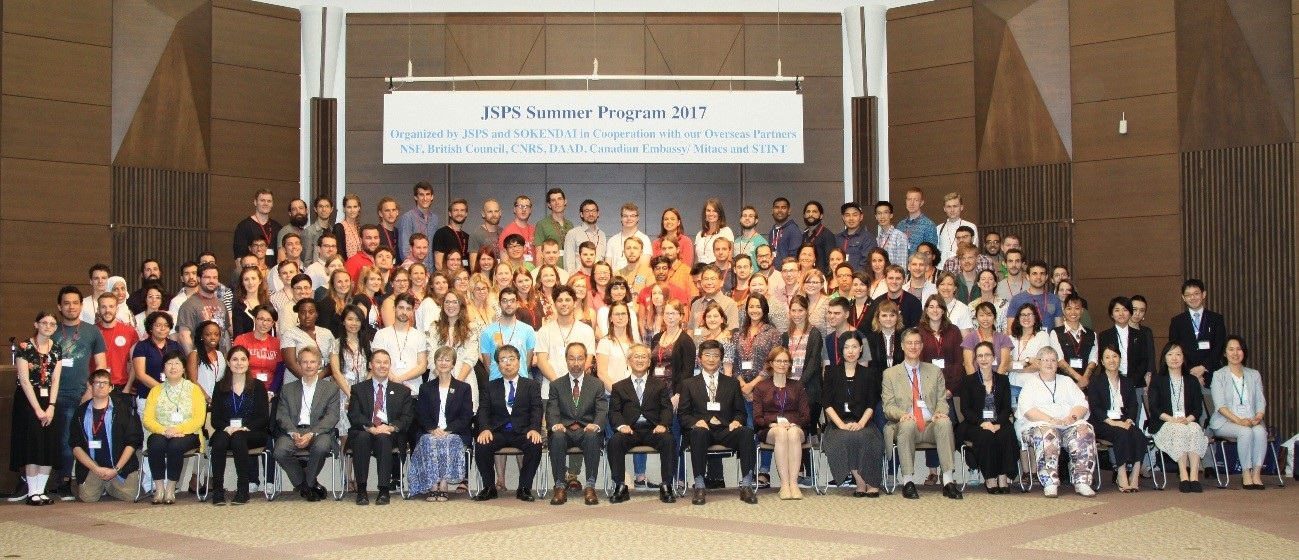 At Opening Ceremony
On Wednesday, June 14, 2017, 115 young master's/doctoral students and/or post-doctoral researchers (fellows) from the United States, the UK, France, Germany, Canada, and Sweden participated in the orientation of JSPS Summer Program 2017.
The opening ceremony began with a welcome address by Dr. Yasuhiro Iye, Executive Director of JSPS, and Dr. Takashi Nagata, Executive Director/Vice President of SOKENDAI. It was graced by the presence of distinguished guests, including the representatives of the nominating authorities. In the evening, host researchers, the students of SOKENDAI, and the former JSPS fellow who gave a presentation at the ceremony joined the welcome party to enjoy conversations with fellows outside their research fields and of different nationalities.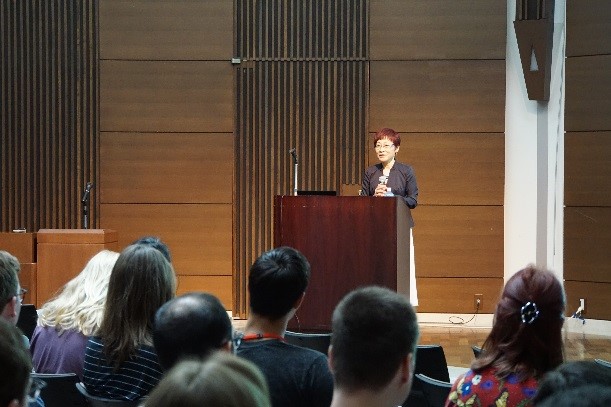 Special Lecture by President of SOKENDAI, Dr.Hasegawa
On the second day, Dr. Mariko Hasegawa, President of SOKENDAI, delivered the special lecture titled "Evolution of Human Intelligence." The fellows were greatly impressed with the lecture on how and why the biological basis of human intelligence evolved, and how we have come to create our current science-based civilization.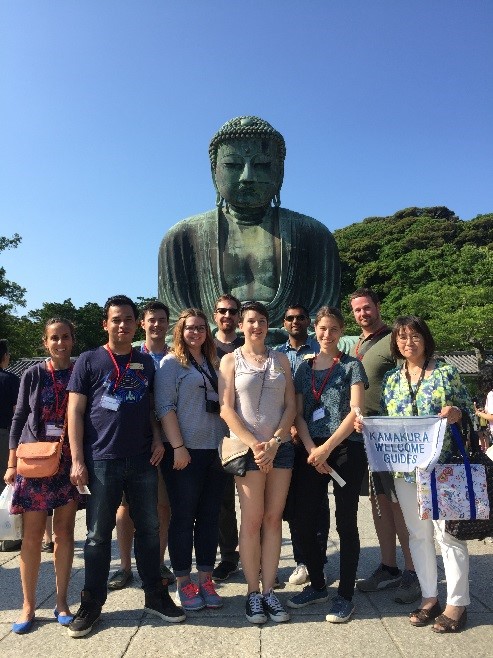 At Kotoku-in (Great Buddha)
In the afternoon of the second day, the fellows visited the most popular sightseeing spots, Tsuruoka Hachimangu and Great Buddha in Kamakura. This excursion was optional; however, almost everyone joined the tour to enjoy the ancient city of warriors. With the help of experienced volunteer guides from "Kamakura Welcome Guide," fellows were divided into 14 groups and listened diligently to historical explanations, fully enjoying the charm of the ancient city.
On the third day, a group discussion was conducted. Fourteen faculty professors from SOKENDAI and fellows introduced their research in each class. The research introduction by fellows was a meaningful time to exchange ideas and understand the differences in lab cultures between Japan and overseas. Eight SOKENDAI students who had participated in the seminar on "English poster presentation skills" also joined this session.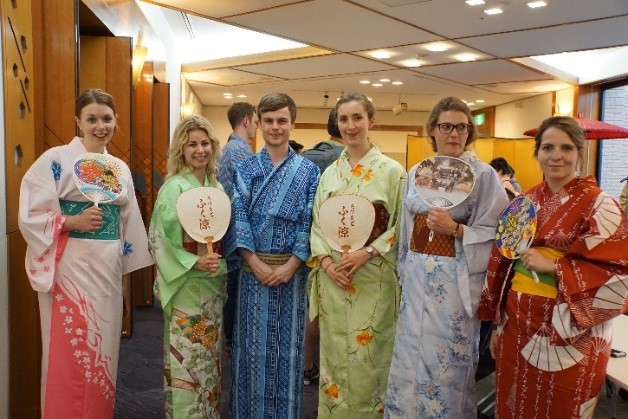 Japanese Culture Experience with Yukata
During the orientation, the fellows were assigned to 10 Japanese classes according to each fellow's Japanese level. On the poster session, in which SOKENDAI students also participated, they exchanged ideas with other fellows from different countries and research fields.
This year, the Japanese Culture Experience was held before the homestay program. It consisted of a tea ceremony, calligraphy, origami, kendama, and kimono dressing. Kendama was for the first time included in this session; many fellows enjoyed catching the ball in the cups. On kimono dressing, the volunteer staff brought yukata, which were colorful and looked so beautiful.
The fellows enjoyed the pleasant weather during the weekend with Japanese host families by visiting a super public bath, the Cupnoodles Museum, a kaiten-zushi (conveyor-belt sushi) place, and a workshop for hand-made udon. They fully enjoyed the unique Japanese culture too.
On the final day of the orientation, Dr. Masateru Ando, a former professor at Tokyo University of the Arts, delivered a lecture on and showcased traditional Japanese music. Dr. Ando explained Japan's traditional musical instruments and played six songs on koto, shakuhachi, shamisen, and the 17-stringed koto. The melodies were amazingly beautiful, and those sounds touched our hearts. After the musical performance, the fellows had an opportunity to try the musical instruments, and enjoyed making sounds on the traditional Japanese instruments.
After the fellows completed the one-week program enjoying the lovely weather, they travelled to their host institutions located across the country to conduct their research activities for two months.
Research Report Presentation & Farewell Party: August 22, 2017
After two months of research activities at their respective host institutions, the fellows gathered in Tokyo on August 22 to attend the research report presentation and farewell party.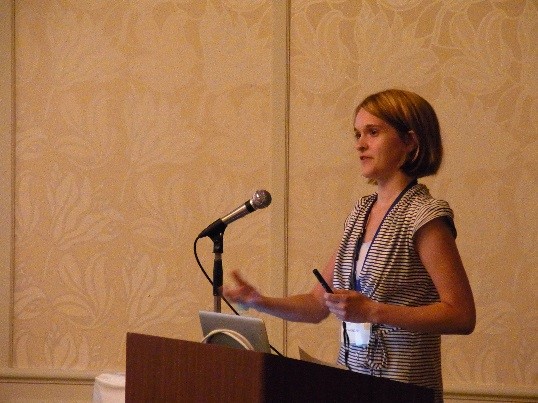 Research Report Presentation
At the research report presentation, seven representative fellows selected by each nominating authority made presentations about their research and achievements in Japan. One of the fellows who stayed in Hokkaido reported on survival limitations of Metridium senile. Another fellow's challenge was to make visible the radioactive exposure in post-Fukushima photography. A fellow discussed research on the application of Automatic Speech Recognition technologies to singing, and others detailed their research in physics and engineering.
Some host researchers and Dr. Ando also joined the farewell party, which made the party more enjoyable. Two JSPS post-doctoral researchers who were JSPS Summer Program participants in 2014 delivered speeches that covered the experience of their current fellowship in Japan.
It was so great to hear that the many fellows were happy to be able to meet and exchange their ideas with other fellows in orientation sessions. Following this event, they extended their skills and abilities whilst living and working in an international environment. This directly points to the success and importance of this program.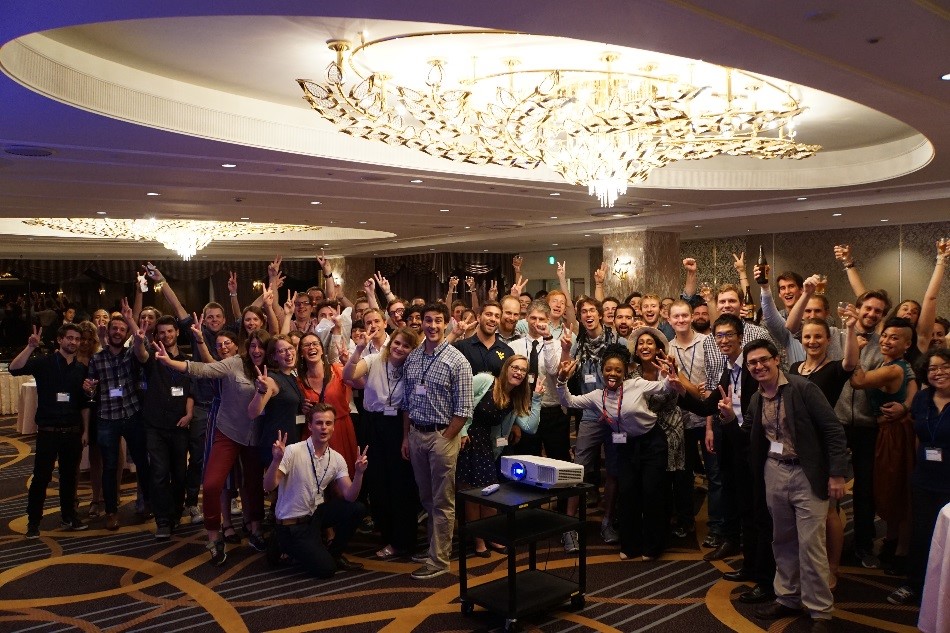 At Farewell Party
We received messages about the JSPS Summer Program from some fellows who stayed at Inter-University Research Institutes (IURIs) and SOKENDAI as host institutions as follows.
"What was the thing that most impressed you about this program?"
The orientation program was very extensive and was a good opportunity to meet people. I felt that it was a great way to start the summer, particularly the social aspect.
(Jeffrey Brooks, National Institute for Physiological Science/New York University, NSF)
"What are differences between Japanese laboratories and your country's laboratories?"
The research environment is quite similar actually. The biggest difference is that it seems my Japanese colleagues work at different hours (arriving later and leaving later), and students are very committed to their work.
(Christopher Sprague, Japan Aerospace Exploration Agency (JAXA)/Rensselaer Polytechnic Institute, NSF)
"How was your research through this program?"
I couldn't have wished for my research to go any better ? my host lab was incredibly supportive and worked efficiently; therefore, I achieved a lot in a short space of time.
(Lotte Watts, National Institute of Genetics/University of Aberdeen, BC)
"What did you think about orientation sessions organized by SOKENDAI ?"
The orientation at SOKENDAI was an amazing experience that allowed us fellows to become adjusted to our new environment and meet other students from different areas. The language class extremely helped with becoming more comfortable with talking and introducing ourselves. As for the cultural experience, those were a once-in-a-lifetime experience for some of us. To be allowed to experience this in a situation where there isn't a large crowd was an amazing opportunity. I especially enjoyed the Kamakura tour because it was my birthday and [it] allowed me to visit a new place and celebrate with a great group of people.
(Kimberly Cory, National Institute of Polar Research/West Texas A&M University, NSF)
"Would you give us a short message about this summer program?"
This program has changed my outlook on science, and given me the motivation and opportunities to develop strong, international collaborations that will carry far into the future. The research I conducted will contribute greatly to the completion of my dissertation and lay the groundwork for many future studies.
(Melissa Plakke, SOKENDAI(The Graduate University for Advanced Studies)/University of Pittsburgh, NSF)