Past Articles2014
JSPS Summer Program 2014
<Date> From Wednesday, June 11, to Tuesday, August 19, 2014
<Participants> 115 fellows in the JSPS Summer Program
Orientation
A total of 115 young pre- and post-doctoral researchers from the USA, the UK, France, Germany, and Sweeden came to Japan for the JSPS Summer Program 2014, which started on June 11, 2014. Despite their long trips from their countries, the 115 fellows seemed to be filled with anticipation for their coming two months of research activity in Japan.

The Opening Ceremony began with an address by Dr. Okada, the president of SOKENDAI. Many JSPS guests and Nominating Authorities also attended the ceremony. In the evening, the welcome reception was attended by Their Majesties the Emperor and Empress of Japan, who enjoyed exchanging views and chatting with the young researchers. Many fellows enjoyed long conversations with Their Majesties the Emperor and Empress of Japan and their host researchers in Japan, the speaker of lectures of the next day's program, the faculty members in SOKENDAI, and the students who had participated in the SOKENDAI lecture. Thus, interaction among researchers from diverse fields and different cultures actively started.
On the second day, two special lectures were held on the leading edge of research in Japan. The lectures appeared to interest the fellows who plan to collaborate with Japanese colleagues for two months.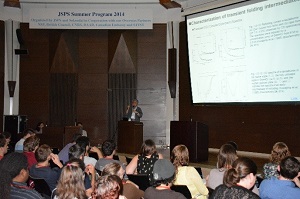 Dr. Kunihiro Kuwajima from The Center for the Promotion of Integrated Sciences, SOKENDAI delivered an interesting lecture on the problem of protein folding is an interdisciplinary problem between biological and physicochemical sciences. The issue regarding protein kinase inhibitors in cancer treatment especially impressed fellows, and drew many questions from attended fellows.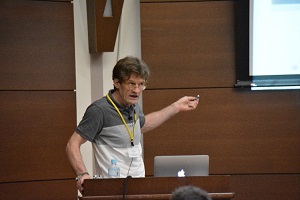 Subsequently, Dr. John BREEN, Professor, Office of International Research Exchange International Research Center for Japanese Studies gave a lecture on "Inventing Ise: constructing sacred space in Meiji Japan (1868-1912)," which featured several ukiyo-e pictures and block print of shrine architecture. Dr. BREEN introduced a history and deep relationship with Japanese Imperial Family. Fellows showed great interest on his lecture, especially because they had a precious opportunity to meet Their Majesties the Emperor and Empress of Japan; his lecture must have had a significant impact on them.
During this orientation program, the fellows willingly attended Japanese language classes to learn various practical Japanese phrases. Their attitude demonstrated their enthusiasm for the upcoming two months of research activity. When they were introduced to aspects of Japanese culture (e.g., tea ceremonies, calligraphy, folding paper crafts, and kimonos), many fellows mentioned that cultural exchange activity was a highlight of this orientation.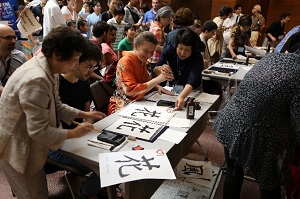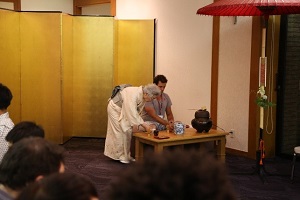 During the poster session, in which SOKENDAI students also participated, many positive opinions were exchanged. On the weekend, the fellows spent two nights with designated Japanese families, who gave them an opportunity to have memorable experiences. Some of them visited the Big Buddha in Kamakura and an onsen (hot spring) in Hakone; others stayed in Hayama to fish and surf. The parting between the families and fellows was considerably emotional and involved much hugging and tears on the part of children.
On June 16, Dr. Masateru Ando, a former professor at the Tokyo University of the Arts, discussed traditional Japanese music in his lecture. Dr. Ando expounded on Japanese traditional instruments. Six compositions were performed using a regular koto, a 17-stringed koto, a shakuhachi, and a shamisen. After the last performance, Sakura Henso Kyoku: The Cherry Blossoms Variation, enthusiastic fellows gave Dr. Ando and the other koto players a standing ovation. After the Q&A period, the fellows formed a long line to examine the koto, shakuhachi, and shamisen. At the conclusion of the performance, the entire audience rose to its feet and gave them thunderous applause with great excitement.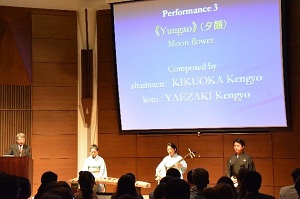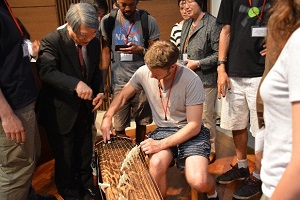 Although the orientation program was held during the rainy
season, the weather turned fine on the last day (June 17), fellows could enjoy
the beautiful view of Mt. Fuji, marking the conclusion of the week-long
orientation in Hayama.
We hope this summer program was valuable for the fellows and that, with their youthful energy, they will continue to promote education at universities and research institutions and international academic exchanges in Japan.
Research Report Presentation & Farewell Party
On August 19, 2014, 115 young researchers from the USA, the UK, France, Germany and Sweeden, reassembled at the Hotel Grand Palace, Kudanshita, Tokyo to attend the Research Report Presentation and Farewell Party after spending two months engaged in research activities in host institutions all over Japan. At the presentation, six representative fellows presented the research objectives they had accomplished during their stay in Japan and reflected on their impressions of their stay. After the presentations, the participants actively discussed their research fields and their summer experiences.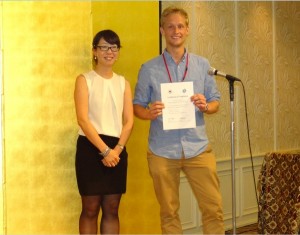 At the Farewell Party followed the presentations, including 19 host researchers and Dr. Masateru Ando (who had given an excellent koto performance) also joined the party, total of 170 participants grandly wrap up fruitful two months stay in Japan. Especially Fellowship Presentation given by Dr. Vohra Varun, Assistant Professor of The University of Electro Communications encouraged JSPS Summer Program Fellows to persuit their research in Japan after summer program. Many fellows enjoyed not only this reunion with other fellows but also the conversations about their research activities and culture experiences in Japan. Their research results and remarkable growths definitely promoted the significance of this fellowship program.
The followings messages are from some JSPS Summer Program fellows who stayed at SOKENDAI host institutions.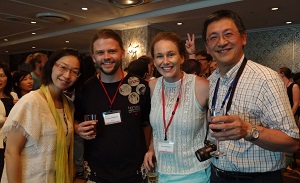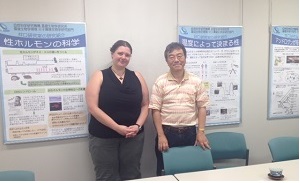 Steven GILHOOL ( NSF :国立天文台/ University of Pennsylvania 物理学・天文学)
"What is the most impressed thing in this program"
The entire program was great, but I was really surprised by how enjoyable and interesting the orientation was. Seeing the Emperor and Empress, the home stay, and the Japanese music presentation and performance were all fantastic experiences.
"What did you think about orientation programs organized by SOKENDAI in Hayama? "
I had a very positive experience at orientation. I particularly enjoyed the language classes and the cultural experiences. My only complaint would be that the lecture on protein folding seemed a bit out of place. I thought it was fairly interesting, but it was outside of my field and so I couldn't understand a lot of it. I know there were people for whom it was even less understandable.
"Short message about this summer programs?"
If I could do this program ever summer, I would. Thank you very much for this amazing opportunity!
Jochen SMOLKA ( STINT :先導科学研究科/ Lund University 生物学)
"How was the atmosphere of the laboratory in Japan compared with that of your country?"
Very different working hours for PhD students in Sweden. Japanese working atmosphere (though friendly) is much more formal.
" How was your research through this program? "
Cooperation with the host and the host institute were excellent. Everything needed was provided.
"Short message about this summer programs?"
The program is an excellent way to experience Japan and get in contact with Japanese researchers. Highly recommended for any student who is thinking about collaborating with Japan!
Inga TUMINAITE ( NSF :生理学研究所/ Lund University 分子生物学)
"How was the atmosphere of the laboratory in Japan compared with that of your country?"
Only the working hours ? in Japan people spend a considerably larger amount of time in the lab.
"What did you think about orientation programs organized by SOKENDAI in Hayama? "
They were very satisfactory. However, the language lessons could have been distributed over a longer time since all day lessons were very tiring.
"Short message about this summer programs"
Thank you for a great opportunity which has provided me with both professional and personal growth!